Games to watch this weekend?! + Don Nacho ate deep dish
LIVE SOCCER in Concacaf (but maybe not for the right reasons) - plus the untold story of the late Mexico manager's American adventure
Let's Get CONCACAFed on an isolated long run…
The Nicaraguan league plays on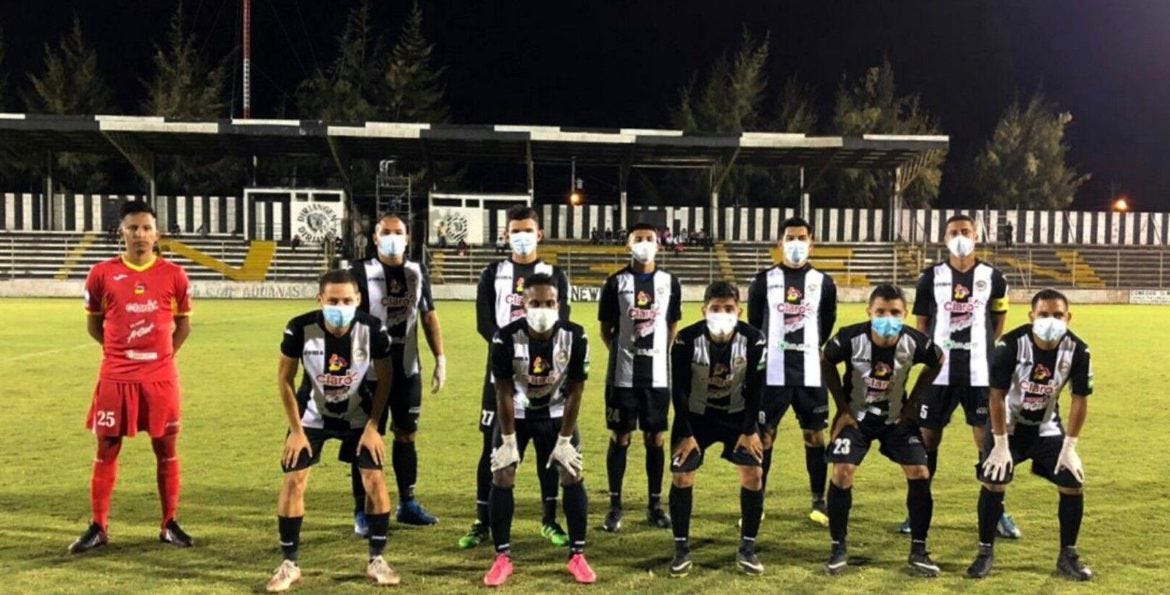 Diriangén players wear masks and gloves before Wednesday's 1-1 draw against Las Sabanas
We have soccer in Concacaf this weekend, but even despite our desperation for live sports, I'm afraid to report that it's not a good thing.
I was befuddled when I saw results from Nicaragua coming across my Twitter timeline this week (just as befuddling - why I am still scrolling my Twitter timeline…)
I had seen the Nicaraguan FA's announcement a week ago that it was suspending competitions it ran and, along with Costa Rica and Guatemala, thought that was it. Every league in the region was (wisely) shutting down because of the conronavirus pandemic. The catch? The Nicaraguan FA (FENIFUT) doesn't run the top mens's league in the Central American nation.
So, they play on. Hooray! Right? Welllll….
I called up Nicaraguan soccer expert Camilo Velásquez of FutbolNica to see what the story is, and it turns out it isn't so simple.
Most teams in Nicaragua have strong government connections - Velásquez says 9 of the 10 teams draw significant funding from players in the orbit of current president Daniel Ortega.
Nicaragua, you may know, has been in political turmoil since April 2018 with protests against the long-ruling Ortega starting when the government announced reforms to social security. Protestors took to the streets and were greeted with a brutal response from authorities. More than two dozen people lost their lives on the first day of protests.
Things elevated quickly with hundreds of thousands taking to the streets by the end of April.
The struggle inevitably spilled into soccer with Diriangén's long-standing rivalry Real Estelí in the 2018 Clausura final taking on a political significance it never had before.
While Diriangén, whose players are pictured above wearing masks and gloves and practicing social distancing in their prematch photo from Wednesday's 1-1 draw with Las Sabanas, gets around $29,400 in funding from its own local government it largely is funded by an outside ownership group.
Velásquez went as far as comparing it to Barcelona against Franco's Real Madrid squads. Estelí's president at the time, Fidel Moreno, is an Ortega ally who wields considerable influence in Managua politics. He stepped down from his position with "El Tren" after the United States announced sanctions on him in August 2018 but remains connected not only to Estelí but other teams that get funding from the government in the capital.
Diriangén won that title and displayed a banner in the locker room after the match in a nod to the original Sandinista movement. Around a month later, one of the club's owners had his radio stations burned down in an act of arson.
Ortega and his wife/vice president Rosario Murillo recently were featured in a CNN story titled "Why are these three presidents downplaying coronavirus warnings?"
Velásquez has a pretty good hunch.
One of the strongest moments for protestors was a general strike in September 2018 that shut down the nation. Velásquez says Ortega now must insist things are business as usual to avoid the potential of another strike, perhaps one that starts because of concerns about coronavirus but grows into something that could remove Ortega from power.
With the government wielding so much power over the clubs in the top division, it's no wonder the ball is still rolling. (It's the same story with Baseball, Nicaragua's most popular sport, with that league also continuing as though everything else in the world isn't shut down).
There has been minimal resistance. Real Madriz, a small club from Somoto (population 35,000), announced last week it didn't want to travel to play before succumbing to pressure and taking a 4-0 loss at Real Estelí.
Some players are reluctant to press on but don't have many options with their salaries dependent on actually playing games and directors refusing to press pause on the league to shatter the illusion that everything is business as usual in Nicaragua.
"They don't want to stop the league, and we're trying to be professionals, doing what we like the most with the fear of not knowing what's going to happen," Real Esteli's Mexican attacker Taufic Guarch told ESPN Mexico. "Nobody feels comfortable. A lot of players from other teams didn't want to come to play. There's a contract and we have to honor it but we also have to look after our own health."
Health is clearly the first concern, but it isn't the only reason not to celebrate having something to stream on YouTube this weekend. With just two leagues (that I know of, I probably missed a few) playing, bettors are zeroing in on Nicaragua.
However, Nicaragua has a history of match manipulation accusations. With few other games on which to place action this week and relatively low salaries in Nicaragua, many close to the game fear it's a perfect mix for fixed games or for players or even administrators to be on the take - or simply to increase the number who may already be profiting from matches in an inappropriate way.
There currently are just two confirmed cases of COVID-19 in Nicaragua but, as we've seen in plenty of other places, statistics may not be too reliable as they heavily rely on number of tests administrated, proper reporting, etc. It's clear that even if Nicaragua is improbably able to buck a global trend and avoid huge swaths of its population being infected by the virus, there's plenty of help needed for soccer in the country to be healthy again.
Camilo does a live show on Facebook at 9 a.m. Central Monday, Tuesday and Thursday where he does a rundown of what's happening in the country's soccer scene.
Also, you can catch this weekend's action on some of the team's official YouTube channels.
---
Don Nacho in Chicago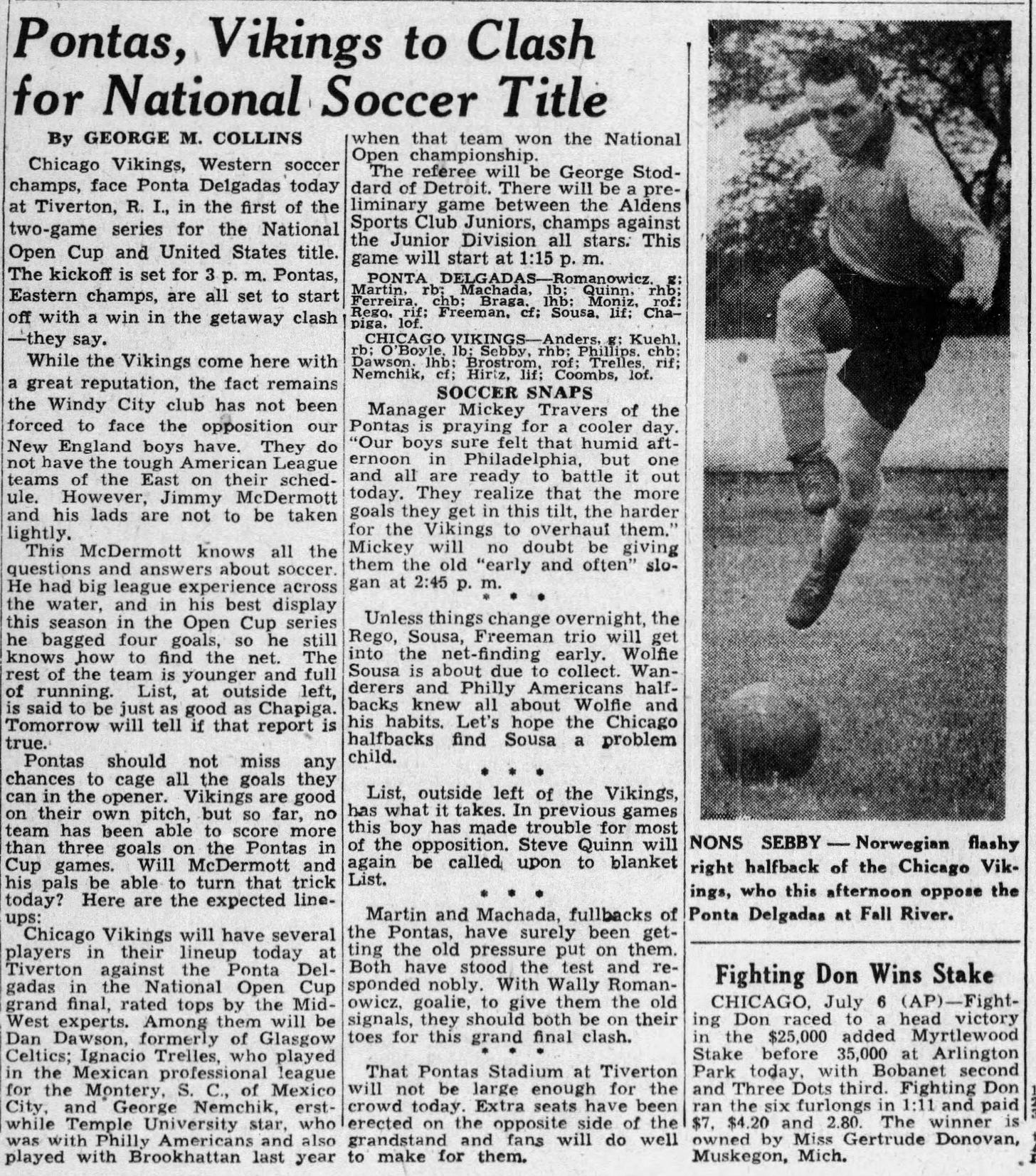 Ignacio Trelles, the legendary Mexico manager known as "Don Nacho", died at age 103 on Tuesday.
It's difficult to put his prolific career into context. He managed for longer than I've been alive and also had been retired for pretty much as long as I've been alive. He coached the national team at a time when you also could coach other teams, and the records going back are not as clear or as easily accessible as pulling up Soccerway.
What we know is this: Nobody oversaw more Mexico matches. Only Tigres manager Tuca Ferretti has overseen more Liga MX games. He wasn't half bad, either, getting Mexico to World Cups when there only was one spot available for the region and winning seven league titles in the days before short seasons arrived in Mexico.
One thing that stood out to me in the obituaries that ran in the Mexican press was that as a player he left Monterrey in the mid-1940s to play for a club called "Vikingos de Chicago" in the U.S.
I reached out to Northern Michigan University professor Gabe Logan, who literally wrote the book on Chicago soccer history, to see if he could find record of Trelles. Of course, his archives are in the office and he's stuck at home, but he still came through with some interesting notes when I asked if Trelles played in Chicago as Wikipedia and these news articles claimed.
He did indeed play in Chicago and for the Vikings. In 1946 and 1947 there was a modest professional soccer circuit known as the North American Soccer Football League (NASFL).  Trelles played outside left for the Viking in the 1946 season. 
The Vikings won the U.S. Open Cup that year, and the Boston Globe preview of the final pictured above cites him as a player to watch (and brutally misspells Monterrey as Montery, but they were still trying to save money on newsprint those days). Yet, Trelles doesn't appear in the actual lineups on Josh Halaka's U.S. Open Cup database.
Josh put me in touch with another soccer historian, Chuck Nolan Jr., who provided these newspaper clips and said that in his research, Trelles didn't actually make a USOC appearance.
In the Vikings quarterfinal game versus St. Louis' Carondelet, there was a player named Torres in the Vikings lineup. For a moment I thought it might be Trelles and whoever wrote the story either misspelled or misunderstood the name, but it turns out it was a player named Francisco Torres who was on loan to Vikings from Chicago club Necaxa. 

Trelles did appear in the Vikings lineup in a 3-2 win over Chicago's Italian American Maroons on July 11, three days before the second leg of the Open Cup final. He scored the Vikings third goal. Oddly, this name was spelled wrong in the story (twice!), but correct in the lineup!

Get it together, 40s journalists!
Anyway, we don't know how Trelles ended up in Chicago and I don't want to be like my predecessors and make a big mistake, but I still wondered what led Don Nacho to leave La Sultana del Norte for the Windy City.
I asked Dr. Logan, who could make a way more educated guess than I could, and the likely answer is even more interesting than I expected!
Chicago's Latinx community supported soccer beginning in the late 1920s.  A worker team, Necaxa, (who took their name from the more famous Mexican club), first played in Chicago's Labor Sport Union (LSU), a communist soccer league in the city.  By the 1940s the LSU folded but Necaxa was going strong and joined with Chicago's National League (NL).  Necaxa was headquartered in an old German socialist hall. 

These were the rather humble beginning of the city's massive Latinx soccer engine that Chicago enjoys today.

 I speculate here, but I imagine Trelles likely hooked up with the city's Mexican community, played and stood out in the NL league. How and why he came to Chicago will require some detective work but there was a vibrant migration stream from Mexico to Chicago.  His timing coincided with the advent of the North American Soccer Football League (NASFL), which as you pointed out, was a rather formidable league in its own right, Heron et al. In fact much of the US' 1950 World Cup team were alumni of the NASFL. The Vikings likely recognized Trelles' talent from his stint in the NL and offered him a paycheck to join their side.
The Heron I mentioned to Dr. Logan is Gil Heron, but let's leave that for another newsletter.
Hopefully once we're all moving around again, I can track down a few of Trelles' relatives and some documents and put together a more concrete history, but it's fun to think of one of Mexico's greats playing in the U.S. so many decades before many of his compatriots would do the same in a very different looking soccer ecosystem.
Thanks to our historians for their time and for sharing their findings.
Next edition
That pro/rel thing I promised you guys last week, plus Concacaf's Best XI and the coolest clothing brand in the region. Have a great weekend, and don't forget to earn an assist by passing this to three of your friends who are soccer nerds.